Pneumonia and Your Senior Parent
Senior Care Federal Way WA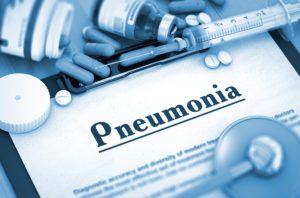 Pneumonia is an infection that occurs in the lungs and is caused by bacteria, virus or, occasionally, fungi. It can be a very serious disease, especially among the very young and those ages 65 and older. Though it can occur any time of the year, winter is the season when it becomes most active and the elderly are at the highest risk.
Why is Pneumonia more Serious in Seniors
Seniors are more susceptible for a number of reasons. They many have a weakened immune system due to malnourishment or limited mobility. An existing illness such as COPD and other lung conditions, heart disease, Parkinson's, and diabetes can put them at an increased risk. The regular symptoms that are found in the younger population can be masked in seniors due to decrease lung function and in some can even present itself as asymptomatic. When symptoms are present, they can include the following: fever and chills, cough, wheezing, difficulty breathing, fatigue, a rapid heartbeat, and nausea and vomiting. In the elderly, generalized weakness and increased confusion may be the only apparent signs.
Environmental Risk Factors
Smoking and excessive alcohol use are two common risk factors for pneumonia that can be addressed and resolved before this disease takes root. If your loved one has issues with either, consider getting them the help they may need to beat these addictions. Medicare may offer counseling sessions for both risk factors. Call the National Cancer Institute free smoking quit line at 877-44U-QUIT for help with quitting.
Keeping your loved one out of large crowds during peak flu outbreaks can keep them away from the bacteria and viruses that can overwhelm their immune system. Talk about the importance of personal hygiene such as washing their hands after any public outings and keeping their fingers away from eyes and nose. Even the common cold can become pneumonia when the immune system is compromised.
Before Pneumonia Strikes
In addition to addressing the risk factors, it's important to keep your loved one's immune system functioning at its peak. To ensure optimum health, exercise and a healthy diet are vital. Nutrient-dense superfoods can help your loved one get the nutrients they need even if their appetite is diminished. Some of these foods include kale and other dark leafy greens, Salmon and Spirulina—a blue-green algae rich in protein, antioxidants and B vitamins and can be added to shakes and smoothies.
Senior Care Provider
In order to keep your loved one active and eating right even when you can't be there, consider obtaining the services of a senior care provider. These professionals can shop for health-sustaining food, prepare it, and keep your loved one company at meal times. An important immune-boosting property is simply feeling connected and engaged with others. In addition, they can help with the daily activities of living such as bathing, dressing and light housekeeping, giving you the time you need to take care of yourself as well.
If you or an aging loved one are considering Senior Care Services in Federal Way WA, contact the caring staff at Hospitality Home Care today. Call us at (206) 966-6552.
Latest posts by Marlene Diaz
(see all)