Welcome to
Hospitality Home Care
Providing you with Affordable, Exceptional, Personalized Care
Getting old is a difficult experience as health starts to deteriorate and they depend on others to get the daily activities done.  This is the time when the elderly requires most care and compassion. The importance of proper elderly care is never overstated. However, modern constraints of life do not always allow people to take care of their elderly. They can opt for appropriate elderly home healthcare agencies to provide in-home care services for the smooth functioning of their life. This is where Hospitality Home Care comes in.
We are one of the leading personal care assistant companies in Seattle and surrounding areas providing compassionate, personalized services to meet the needs and requests of your elderly loved ones at home. We know there are a lot of questions when it comes to home care for the elderly, and our team of dedicated personal care assistance is here to offer answers as well as provide suggestions for any concerns you might have. You can contact home health agencies near me to learn more about the quality in-home care services we have been providing since inception.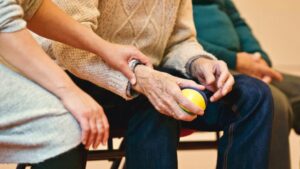 Our personal care assistance services are specially crafted in catering to individual healthcare needs. With a dedicated Health Manager, who ensures all your elderly loved one's healthcare needs are taken care of, be rest assured. Through our services, we also assist you with doctor visits, diagnostic services, nurses, trained personal hygiene assistance, pharmacy, equipment, physiotherapy, and nutrition.
Home Care Services Tailored for Elderly
When you choose Hospitality Home Care for senior home care, our team of passionate personal care assistants reviews your loved one's needs and necessities to create a tailored care plan. They meet with your family members and, when required, consult with your senior's medical care team such as physician(s), social workers, and hospital or nursing home staff if any. Our goal is to get a thorough knowledge of your loved one's in-home care needs so that we can provide the best home care service possible.
Once we are acclaimed with the knowledge and understanding of the needs of your loved one, our home healthcare agencies would assign the task to a selected group of compassionate, experienced, and dedicated in-home caregivers. Our caregivers help with grooming and hygiene guidance, mobility assistance, transferring and positioning, incontinence care, nutrition and meal preparation, grocery shopping, errands, medical reminders, light housekeeping, conversation, and joyful companionship, to name a few.
We look forward to meeting your family.
Where to Start
Fill out our quick and easy online needs assessment tool to start the process of investigating your home care options with Hospitality Home Care's best home care services.
Our Services
We stand out in the in-home care field by being the home health aide agency offering a diverse selection of services designed specifically to cater to your elderly loved one's health needs. ​
Careers
If you have the passion and desire to make a difference in the lives of senior people in your community who require in-home personal care assistance, we would love to have you onboard as a Caregiver.